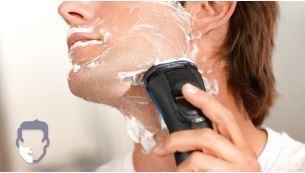 Get a comfortable dry or refreshing wet shave with Aquatec
Choose how you prefer to shave. With the Aquatec Wet & Dry seal, you can opt for a quick yet comfortable dry shave. Or you can shave wet – with gel or foam – even under the shower.
Rounded edges move smoothly over skin for a protective shave
Get a comfortable dry shave. Our ComfortCut Blade System with rounded profile heads glide smoothly across your skin while protecting it from nicks and cuts.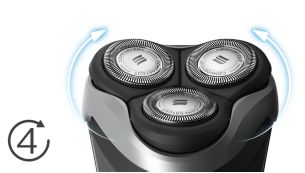 Heads flex in 4 directions to easily shave every curve
Flex heads with 4 independent movements adjust to every curve of your face, giving you an easy shave even on the neck and jaw line.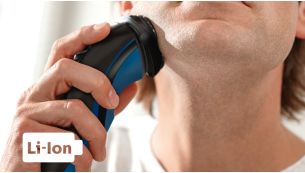 Consistent maximum power year after year
Shave longer with every charge. Your shaver will keep going just as strong for years, thanks to our powerful and efficient lithium-ion battery.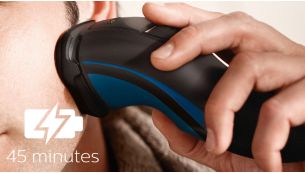 45 minutes of cordless shaving after an eight-hour charge
You'll have 45+ minutes of running time – that's about 15 shaves – on an eight-hour charge. Or choose to shave with the device plugged in.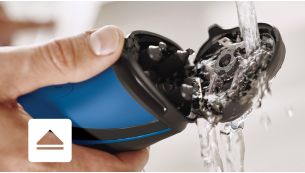 One touch open, for easy cleaning
Simply pop the heads open, and rinse thoroughly under the tap.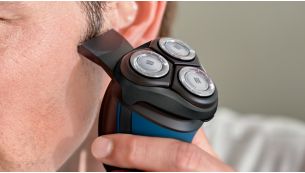 Perfect for trimming your sideburns and mustache
Complete your look by using the pop-up trimmer. Perfect for maintaining a mustache and trimming sideburns.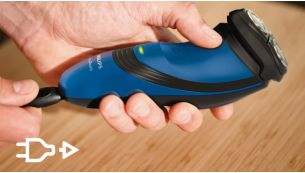 Cordless operation only
This shaver is designed to operate only in cordless mode. Always unplug it before shaving.